ISF Filing By Strix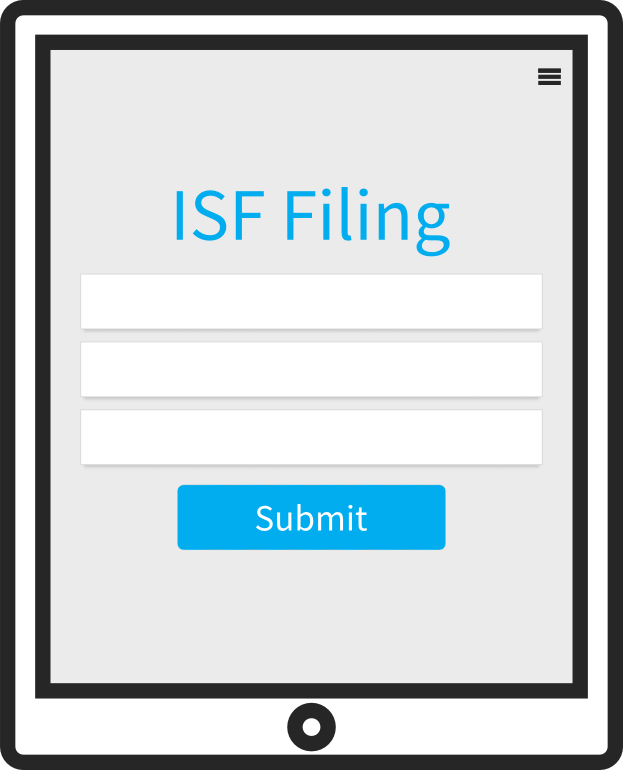 What is ISF Filing?
Importer Security Filing (ISF), also known as 10+2, is a US Customs and Border Protection (CBP) regulation requiring importers and vessel carriers to provide data electronically to CBP for in-bound ocean shipments. ISF improves CBP's ability to recognize high-risk shipments in advance to ensure the safety of America's borders. Customs began enforcing ISF submissions in July 2013, and importers who do not file their ISF 24 hours prior to the cargo being loaded on the vessel destined to the United States face potential fines of up to $5,000 for each infraction.
Web-based ISF Self-Filing
Strix offers web-based software that allows importers to self-file importer security filing (ISF). Self-filing ISFs with our ABI software will decrease the importer's cost as well as increase their compliance and supply chain control. What sets Strix apart from the competition is that we were not developed overnight; we have been providing a direct-filing solution for importers to file their Customs entries for years.
With our intuitive system, you can file ISFs in less than a minute utilizing the following tools:
Excel template upload
Templates for repetitive ISF filings
Multiple Users
Vendor Access
Auto-completion
In addition to the time-saving tools, our system is also web-based, which means importers do not need to purchase software or updates and the system can be accessed from anywhere with an Internet connection. With our low-cost per-ISF pricing, you can edit ISFs and retransmit at no additional cost.
When you use Strix for your ISF filing, you are not flying alone. We offer free online training and free customer service.
Seven Reasons to Self-File Your ISF
Importer Security Filing (ISF) Form Requirements
Whether you need to file your ISF Form immediately or looking for a business solution to self-filing numerous ISF's throughout the year, below are the minimum data requirements you will need to get started.
The US importer is responsible for providing:
Ship to Name & Address
Importer of Record
Consignee
6 Digit Commodity (HTS)
Manufacturer Name & Address
Seller Name & Address
Container Stuffing Location
Consolidator Name & Address
Buyer Name & Address
Country of Origin of the Goods
The carrier is responsible for providing:
Vessel Stow Plan
Container Status Message Data
ISF Filing Report Cards from Customs
CBP provides report cards to importers as an educational tool so the importer can assess their compliance with the ISF requirement. All US importers should use this report to understand the timeliness and accuracy of their filings. Importers can find their ISF Customs report cards through Customs Automated Commercial Environment (ACE).
Click Here to Apply for an ACE Account.
If you need assistance in finding the report in ACE, please contact the ACE Help Desk at 1-800-927-8729 or ACE.Support@cbp.dhs.gov.
---