CBP 7501 Filing by Strix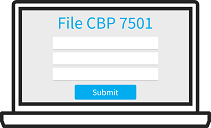 File Your Own CBP 7501 Forms with the Support, but not the Cost, of a Broker
Every importer has the right to self-file their CBP 7501, also known as their Customs entries. A Customs Broker license has never been required. Bringing this process in house allows you to maintain the flexibility to Self-File all of your entries with Strix or to self-file a portion and use Strix Full Service Customs Brokerage for the rest. Let our resources guide you to a program that works best for your company.
Six Ways Strix Makes Filing Your CBP 7501 Easy
No Software for Importers to buy or download
Online access 24/7
Average savings is $75-$100 per CBP 7501
Freedom to use the service as needed. No time or frequency commitments
Pre-populate your CBP 7501 with your Importer Security Filing repetitive data
Customs Certified ABI Software Solutions
With Strix, you have control over filing your CBP 7501 with online training and customer service to help you as needed.
Why Should I Self-Filing My CBP 7501?
Customs Form, CBP 7501, Filing Requirements
CBP requires an importer to apply for their own filer code to transmit files to Customs.
Each importer will also pay all Customs duties and fees directly from their bank account using an ACH Payer number (PUN) assigned by Customs.
Once you have these two items, you are ready to begin self-filing you Customs Form 7501.
How Much Money Can You Save by Self-Filing Your CBP 7501?
When you begin working with Strix there are no contracts to sign. Taking into account the volume of consumption entries your organization files annually, Strix offers two flexible service plans for self-filing your CBP 7501. No matter the complexity of an entry, whether you file with Partnering Government Agencies (PGA), have additional vendor invoices or classification line items you pay a flat per transaction fee. And depending on the plan you choose, each entry is a flat rate of either $20 or $30.
As a Customs approved ABI software vendor we provide a comprehensive training session that sets your organization up for success. Strix will guide you through the process of submitting the documents required to obtain your U.S. Customs Filer code, ACH Payer Unit Number and finally we will show you how to establish a compliant in-house entry filing operation that provides you with the confidence needed to successfully execute the entry writing process. Please inquire with one of our knowledgeable sales representatives to discuss full training details and costs.
How Does the Automated Broker Interface Work?
The Automated Broker Interface (ABI) is an element of Customs' ACE Software (also known as the Automated Commercial Environment). ABI permits qualified participants to electronically file required import data with CBP. Entry data is transmitted from the importer to CBP and back to the importer via the ABI system. Within the last two years, the Automated Broker Interface has fully integrated with the ACE software which is the required interface for all Customs business into the United States.
How Strix Works with the Automated Broker Interface
Strix clients log in to Strix's software for importers for easy access to CBP's Automated Broker Interface and ACE software straight from their existing computers via the Internet. A secured link to CBP's ABI and ACE is provided by Strix. Verisign® technology and SSL (Secure Sockets Layer) security are implemented to ensure the secure transport of information. VPN (Virtual Private Network) technology ensures a secure and encrypted transport of information from Strix to Customs and Border Protection.
Strix provides software for importers which allows them to self-file their entries from anywhere there is a computer and an Internet connection, without investing in new hardware or software.
Fault tolerant storage systems and clustered server arrangements are used to store and backup the data. This configuration assures a high level of data consistency and availability. A secured data center and frequent tape backup processes further enhance availability and recovery capability. Database replication processes and encrypted offsite data storage add an extra level of security, availability, and recovery capability.
---