Customs Clearance & Brokerage by Strix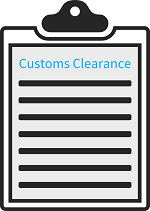 As a full-service Customs House Broker, Strix helps importers succeed in the global marketplace. We provide nationwide customs clearance, importer security filing, and classification services for businesses of all sizes, all from beautiful downtown Bozeman Montana. Whether you are looking to transition to filing your own CBP 7501 or ISF electronically, or simply need a broker you can trust, Strix has you covered!
Prefer to leave Customs transmissions to an expert?
Need assistance in the transition to self-filing?
Desire to outsource your brokerage needs?
Services
Customs Clearance
Strix provides full-service entry filing and customs clearance for all products and all businesses. Whether you clear flooring from China or food products from Europe, our knowledgeable team of entry specialists and Licensed Customs Brokers will get your goods cleared efficiently and on their way to their final destination!
Importer Security Filing (ISF)
Strix provides ISF agent filing at a competitive price point. We understand that organization, communication, and high attention to detail are vital to a compliant and effective ISF program. Whatever your situation may be, the Strix team is here to file on your behalf.
PGA Documentation and Filing
As a Certified ACE vendor, Strix will continue to utilize the Single Window to file your Partner Government Agency (PGA) documentation simultaneously with your Customs Entry, streamlining the process and reducing the time for clearance and delivery of your goods.
Delivery Orders
Our services include the creation of Delivery Orders (DO) to complete the clearance process and movement of your goods to their final destination!
Post-Summary Corrections
Mistakes happen, from incorrect vendor documentation to carrier errors and omissions. The good news is that in ACE, the post summary corrections process is entirely electronic. If you have already paid your statement and need to make a correction to an entry, Strix can do it in a matter of minutes.
Classification
At Strix, we can assist in both small and large classification projects as your import needs dictate. Our team of Licensed Customs Brokers is proficient in classification and utilizes the necessary resources to determine the correct tariff code(s) efficiently and accurately.
What You'll Receive
Assistance from highly trained and knowledgeable Licensed Customs Brokers
Competitive pricing for all customs brokerage services
No upfront fees
Immediate confirmation upon Customs acceptance and clearance
Trade and regulatory support
Free Trade Agreement (FTA) & Partner Government Agency (PGA) entry support
Outstanding customer service
Coverage for all US Ports of Entry
Work with Strix
Our team of Licensed Customs Brokers leads a seasoned group of international trade experts with experience in ABI/ACE development based on 25 years with U.S. Customs, 25 years of underwriting U.S. Customs Bonds, and 30 years in supply chain security management. Our team has been instrumental in the growth and maintenance of Strix, formerly TRG Direct, as well as the planning and development of additional ACE programming needs.
We come from backgrounds in logistics, freight forwarding, customs brokerage, customs clearance, customs bonds, marine cargo insurance, supply chain management, trade operations, ATA Carnets, carnet bonds, transportation, customs compliance, and supply chain security.